The Opinionated Woman's Musings gives a warm welcome to Chaithanya Sohan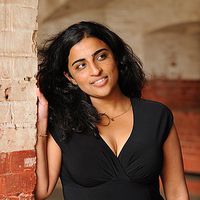 She shares her thoughts today in a guest post entitled
My Life "Abroad"
As a child growing up in India, one often heard about people going abroad as we called it. Abroad, a term that loosely meant the United States of America and United Kingdom almost always showed the glamorous life behind the western world. One never heard about what it entailed to live in a new culture. Like most fairy tales with happy endings, you saw the person leave one day and return years later with gifts, chocolates and a twang to their Indian accent. They had left an Indian and returned an NRI (Non Resident Indian). One heard the never-ending stories of what life in the US or UK entailed, how the streets were clean and people ate with forks and knives. One rarely heard about struggles one faces in a new culture, or the hard work involved in living the American dream. As a child, I thought moving to USA meant getting on a flight and a guaranteed easy life with a bonus twang in my accent.
In 2001, I moved to California with my family. As I walked out of the flight into San Francisco, I believed the hardest aspect of my journey was over. My first brush with culture shock happened when I walked into the streets of Pleasanton and saw no one on the sidewalks. Suddenly, I missed the chaos of the streets of India. When I moved from India to California, I hardly thought the chaos of the streets or the thousands of strangers walking beside me would mean so much to me. Somehow that chaos represented familiar which I now realize.
America Deconstructed was born in those moments. As life continued, I met several other immigrants including my coauthor Shaima. We shared our experiences as immigrants, the goof-ups with culture, weird restaurant experiences, etc. America Deconstructed is made up of those moments.
What happens when someone mispronounces your name?
What do you do when an entire menu baffles you?
How do you react when someone asks you, "Did you take your shower on the street back in your home country?"
Sixteen immigrants through their own experiences have tried to answer these questions and more. Please pre-order the book if it interests you. We have 24 days to gather our pre-orders!
Crowdfunding Link:
https://publishizer.com/america-deconstructed/
Social media links:
https://www.facebook.com/AmericaDeconstructed/
https://www.instagram.com/america_deconstructed/
https://www.goodreads.com/book/show/34234648-america-deconstructed
https://americadeconstructedblog.wordpress.com
About the Authors:
Chaithanya Sohan immigrated to America from India in 2001. She currently works as an Electrical Engineer in the Silicon Valley. Chaithanya graduated from San Jose State University with Bachelors in Electrical Engineering and a Masters in Electrical Engineering from Santa Clara University.
Chaithanya Sohan has worked as a writer since 2002 when she started writing content for various websites. She free-lanced as a writer until 2013 when she decided to write her book America Deconstructed. Some of her works are published in websites such as http://www.rethinkreality.com. Chaithanya enjoys traveling and runs her own blogs http://www.nomadicsue.wordpress.com & http://www.wordspeare.wordpress.com.
Shaima Adin came to the United States as a refugee in May 2000 at the age of 16 with her mother and sisters. She is originally from Afghanistan but has lived several years of her life in Pakistan as a refugee as well. Currently, she works in an engineering management position at a Safety and Quality-testing laboratory in Union City, CA.
In light of recent times and all the debate about immigrants and refugees around the world, Shaima joined forces with Chaithanya to put forth the stories of immigrants from different backgrounds that have called America home. Her purpose in doing so is to paint a different picture of immigrants and refugees by displaying their side of the stories and the struggles of starting from nothing.
Synopsis of the Book:
Naseer was nine years old when he escaped Taliban and fled Afghanistan. His story, "There are some people who are coming to take me away", chronicles the resilience of a nine year old boy as he traveled from Afghanistan to America in his quest for the American dream. "I saw a ripe mango I'd like to pluck" showcases the love story of Chidibere and Ifeyinwa and their struggles with language, culture and being African in America. In the story "Kosovo, really…cool", Lisian takes us through his journey to America and often being asked his identity in spite of being white. In the story "I am exotic, mocha, P-Diddy", Parag describes his journey from a young sixth grader who hid his attraction to boys in conservative India to embracing his sexuality in America. America Deconstructed follows the journeys of sixteen immigrants as they maneuver cultural differences, accents and uncomfortable situations while feeling a sense of belonging in America.