This month's post is about a product that I am sure the beginner foodie probably has been looking to buy for their kitchen.
I am the type of person that finds comfort in carbs. I know that is not the best for my waistline.
I have been looking for ways to increase my vegetable intake and reduce my carbs. One of the best ways to do this is by finding vegetables to substitute for bread, rice, potatoes, and pasta.
I consider myself to be a logical person. So when I watch info-commercials, I try use logic to determine how much is hype and how much is actual truth about the product. They want you to "Call Now" and say "But wait! There's more!" I am skeptical most of the time. However, on occasion my interest is sufficiently peaked that I want to try the product.

That is what happened with the As Seen on TV Veggetti Spiral Vegetable Slicer/Cutter. I thought the concept seemed easy enough. I am of the opinion that I can never have too many kitchen gadgets. Ignoring hubby's eye rolling and snide comments about yet another gadget, I bought mine at a store in the "As Seen on TV" section. It also available on Amazon.

If you have not heard of it, here is how they describe it from the website
 The Veggetti Spiral Vegetable Slicer turns veggies into healthy spaghetti instantly!
Perfect, delicious pasta without the carbs
Versatile kitchen tool makes veggie spaghetti, stir-fries, juliennes and more
Great for zucchini, squash, carrots, cucumbers and potatoes
Spiral slicer has dual stainless-steel cutting blades for thick or thin pasta strands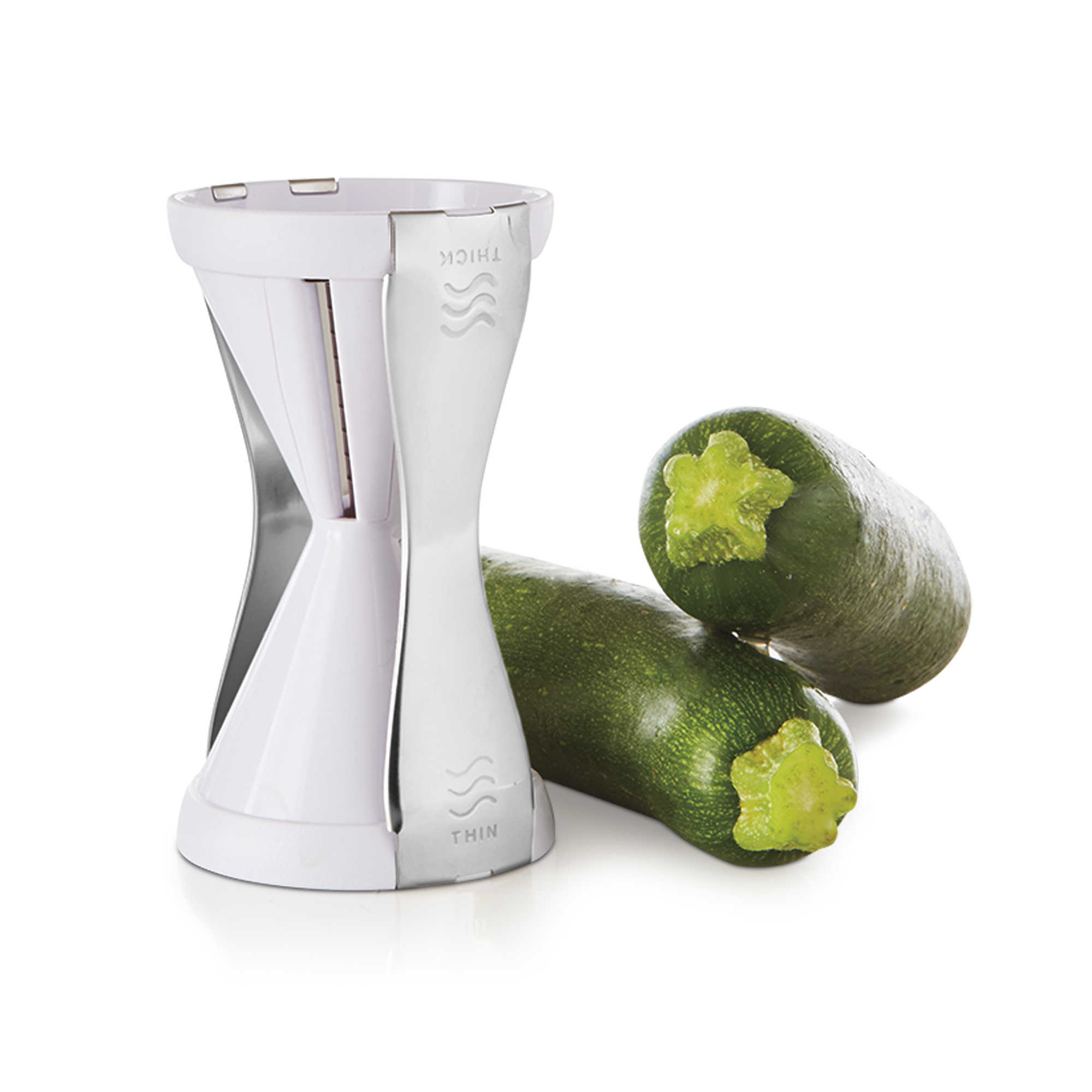 I love my Veggetti! My first attempt at spiralizing was zucchini. It was so easy. I ended up tossing the zucchini style pasta (aka zoodles) with marinara sauce and leftover roasted veggies for a quick, easy filling dinner. I could not convince hubby to try the "pasta" though (I am not surprised- tried to get him to eat spaghetti squash once and it was met with a similar resistance).
I did learn that I need to spin a while and then stop. Otherwise I have 2 feet long zoodles. It's endless spaghetti! In the time it took me to reheat my spaghetti sauce, I had a plate full of zoodles.
They say you can slice potatoes and I tried using sweet potatoes. The results were not what I had hoped. I guess it was probably the circumference of the potato that caused me not to be able to get a good grip while spinning. Instead of long strands like what I had with the squash, I had little half inch pieces. I sautéed those in a little olive oil with onions and called it sweet potato hash. It was tasty so I cannot complain, but I would not go so far as to say that the Veggetti is versatile.
As you can tell, they say it is great for "zucchini, squash, carrots, cucumbers and potatoes". All of these vegetables are cylindrical. From a practical standpoint, I already told you my experience with the potatoes. I have not tried to noodle-ize carrots but I think you should not try this with small or skinny carrots. It would be probably be difficult to grip the carrot while trying to spin at the same time.
So now, I am energized to keep spiralizing as much as possible, I found a website http://www.inspiralized.com/ with recipes. She has a more advanced spiralizer though. I am going to try to make her sweet potato "rice" one of these days. For now, I am sticking with preparing all of the squash "pasta" dishes.
The Opinionated Woman's verdict: Great for making noodles out of long, cylindrical, softer vegetables, but not as versatile as advertised. Zucchini and carrots are the easiest for me. But for everything else, I probably need a different gadget.