B is for Bolryder
Synopsis
Rock cannot stay in Bear Canyon and yet the woman he loves does not ever want to leave. That does not stop him from asking her to marry him every time he gets drunk. It is like their favorite joke. But when it seems that she needs a man in her life, Rock wants to get her set up with the right guy. However, his bear argues that she is his forever mate.
Rosalyn "Ros" has been in love with Rock for years and pining for him. He always comes back, but she knows that one day he will leave for good. She is trying to protect her heart and enjoy the time she has with him at the same time.
Opinion
I read "Sheltered by the Bear" so I know a little of the back story to what Rock and his brothers suffered as children. I gave Rock a lot of leeway with his decisions because I knew that he was trying to avoid dealing with the emotional trauma that he experienced.
Though he did not want to deal with his deeper emotions, he still was trying to do the right thing by Ros and take care of her the best way he thought possible. To him, that meant trying to hook her up with a "good man/bear".

While the basis for the trauma is heavy (child abuse), the overall tone was not dark. For example, it was funny that everyone humored Rock with his matchmaking exercise, all the while knowing that he really was the only man for Ros. I am glad that he had real friends like Francis calling him out on his BS.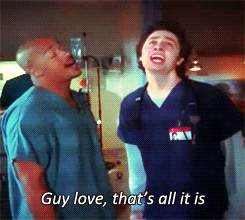 Ros was a heroine who was very understanding and compassionate of his situation. That does not mean that she was anyone's doormat. She pushed Rock's buttons a time or two as well. It made for great chemistry.
Overall, I loved this story. Plus, this is a story of friends to lovers (my favorite trope). Winning in my book!!!!
P.S. Terry I hope you continue to feel better. Love reading your books. And Francis needs his own story. After Ryland of course.
TOW Final Word: Buy, Borrow, Pass?
BUY. This story is unique in the way that the hero and heroine approach their situation. While the plot is somewhat predictable, Rock's antics are entertaining enough to keep your interest.
Book details
Series: Trapped in Bear Canyon Book 2
Heat Level: 🔥 🔥 🔥 🔥
Publication Date: February 13, 2017
Sold by: Amazon Digital Services LLC